A couple of years ago, my friend Barb Wogsland and I had taken our Normandes to the Waupaca County Fair, to exhibit them in the open class dairy show.
Well, to our surprise, we became one of the main attractions at the fair. People would come up to us and tell us they had to come see the new pretty cows they had heard about. Then would come a barrage of questions
Where were they from?
Are they all that color?
Did they milk well?
How did we get them?
After a couple of days, the people on our show team were joking that we should have made a tape of the Normande Story to save our voices.
On Thursday, the King Veterans home brings the vets, to see the fair. That's when I heard a story of the Normandes that went rite to my heart. A gentleman was in a wheel chair being pushed by an aid. When they got by the Normandes, he ask her to please stop. I walked up to them to answer their questions. He just looked very long and hard at the cattle. I ask if he wanted to know what kind of cattle they were. He said no, he knew they were French Normandes.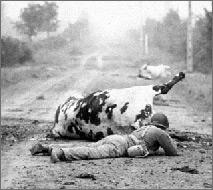 He proceeded to tell me this story:
He was a World War II veteran and he was involved the invasion of Normandy. He told me the battalion he was in had been wiped out by the Germans; he was wounded and so was a buddy with him. He told me the German troops would go through the battle field and bayonet any wounded. His buddy told him they should crawl under the legs of a cow that had been killed in the battle. That's when he said a cow like that saved his life, and his buddy's life. The Germans must have thought the cow had fallen on them and they were dead, so they didn't "stick us".
He said that they managed to get back to US Troops and were safe. But he said he could not believe there were any cows like that left. He thought the war had killed them all!
The body of the cow they had laid under was none other than a NORMANDE COW…
I never asked the man his name, and he never came back to the fair in the years after that.
Remembering my story of the vet and the Normande cow, Barb found this picture online of a Normande cow's body and an American GI.
It goes to show how horrific war is on all levels.